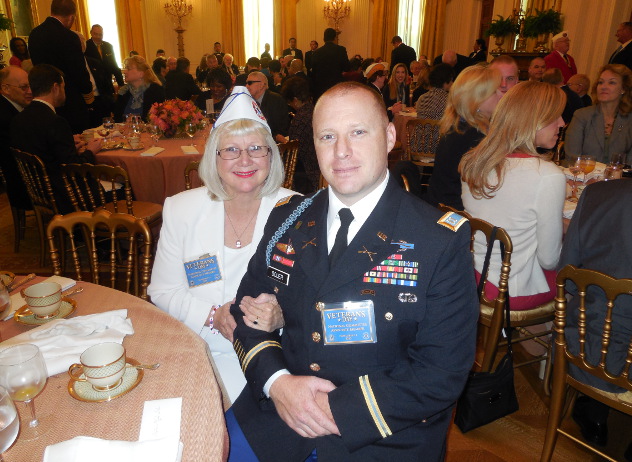 March 2014
A lot has been happening at the National level during February and March. For being the shortest month of the year, February was one of the busiest months for your National Board and Committee Chairs. The National Board held its mid-year meeting in Millbrae, CA (near the San Francisco airport) from Friday February 14th through February 17th. Yep, your Board members gave up a 3-day weekend and Valentine's Day to join together and develop a Strategic Plan for the organization (more about this below). Given the weather conditions in the Midwest and East Coast, we were glad to have it scheduled in sunny CA which reduced overall travel costs and allowed us to be about $1,500 below the approved budget for the meeting.
Organizationally, we face a future far different from the past ten years; one war has ended, one more is winding down; fewer troops are being deployed and more of our children have become veterans, facing new challenges as they transition to civilian lives. From a chapter and media perspective, we have always been known for our Care Packages, but all of our chapters find themselves with fewer and fewer names for sending packages, while facing greater competition for donations and in-kind donations as other needy groups ask our same communities for support. These are just a few of the challenges facing our Chapters and we need to act now to ensure that this glorious organization continues to survive in a postwar environment. The organization has done it before (we are, after all, 72 years old!) but we need to plan our future and be proactive, not reactive when it is too late.
We are also seeing an unsettling trend among some chapters – a loss of professional behavior towards our other sisters and members of the communities we serve. The NEB wants to reinforce our core values, as indicated in our Governing Documents: Respect, Courtesy, Caring, Integrity, and Kindness. We know that we may not always agree, and can agree to disagree, but we must all do so in a respectful and honorable way. We are hearing of too many chapters where one or two Officers intimidate others – that is wrong, and unacceptable. Your NEB has already taken necessary steps to rectify this situation in some chapters – and really hopes other chapters experiencing difficulties with individual personalities can correct the issues themselves.
Convention
Yes it is almost right around the corner. It is really, really, really important that every chapter sends at least one delegate to convention. We will be training attendees on our new website and it is critical that all chapters understand the new site and how to complete the necessary compliance forms via the website. The IRS has also issued new forms that every Chapter must be aware of and file in the future. Not only is attending Convention an integral part of our Mission, it is also in our Governing Documents as an important part of being a Chapter.
Rooms at the Marines Memorial Club will be released on Monday, March 17th (see the first issue of Convention Chatter, which will be delivered to you this week. Last year, many chapters reserved more rooms than they needed, and then released them closer to convention; we want to avoid that this year, so when you make your reservations, please be prepared to provide the delegates name for each of the rooms – that means that each chapter should be identifying not only the potential number of delegates, but the actual delegates before making their reservations. Rooms may also be available at the Beresford and Beresford Arms, but we encourage all who can to stay at the Marines Memorial Club.
Yearbook
Reminders:

Pat Soler