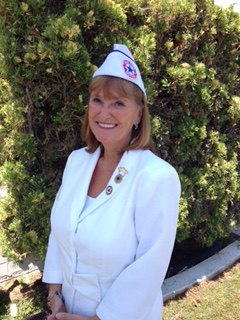 April 2015
A friend once told me, our children enlist, and we are drafted. When that happens our lives are forever changed. From the first sleepless nights they are in boot camp, to the wondering and the worries, we seek families that find themselves in our position because no one understands what it's like to have a child in the military unless you have a child in the military. I needed to know as much as possible what was in store for my child and my family. For me that search brought me to Blue Star Mothers of America, Inc. With this group of Moms I found a place where I could cry at the drop of a hat and someone understood. A safe place where I could show my worries, my fears, and my pride in his accomplishments. To find the support I needed to get through my son's time in the military and the friendships that will last a lifetime.
When our children are deploy or stationed around the world, we learn how to pack a box to get the most items needed and their favorite snacks stuffed into it. What the weather is like and how to figure the time difference from where we live to where our children are stationed. We learn so much and sharing that knowledge with a new Mom can make all the difference in her journey.
Each branch is different in their customs and uniforms, but we soon realize that the son or daughter we raised have become part of a unique group of men and women.

To the families of our fallen, we appreciate the sacrifice and we will never forget the price you paid. We stand beside you with love and honor.
My wish for each of you is that you find what I did when I joined Blue Star Mothers. Unconditional support and love. The strength to face whatever comes your way and to never feel alone.
To our sons and daughters, thank you to all who are serving, have served and those that will serve in the future. Thank you for standing on the front lines of freedom. Most especially thank you to our sons and daughters that gave us the title of Blue Star Mother.
Judy Dorsey
National President